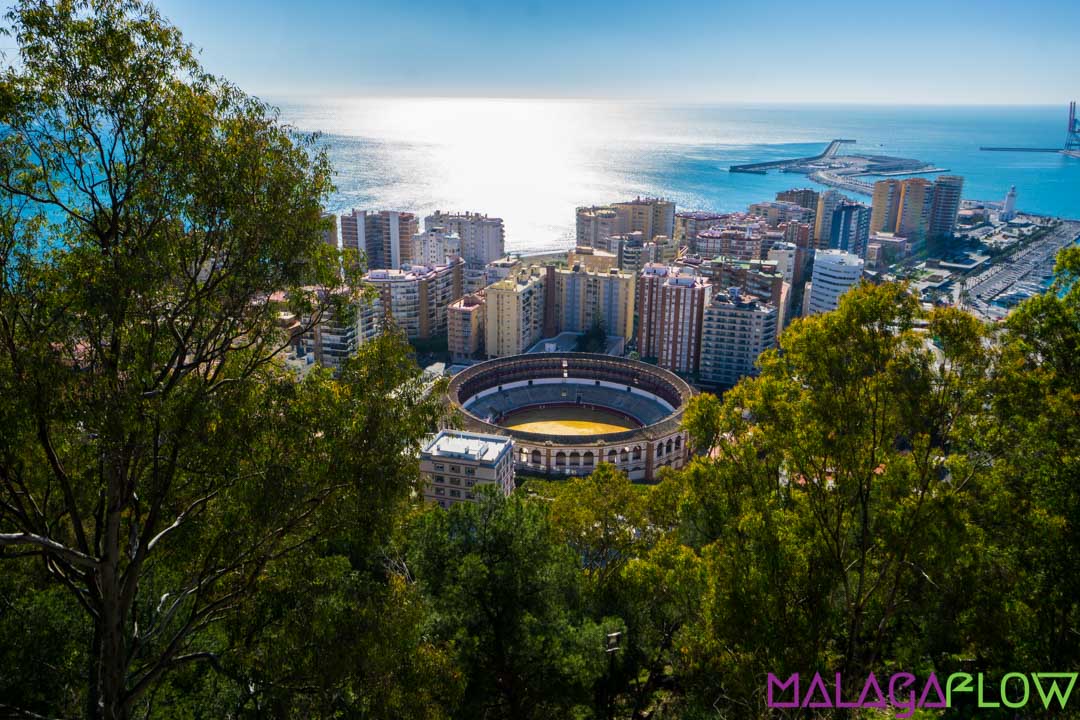 Did you know that the beautiful city of Málaga is quickly becoming one of the most popular tourist destinations in all of Europe?
With affordable prices which can suit any budget, the Mediterranean Sea being at your back door, and the weather being amazing year around, no wonder why it's becoming so popular.
We hope this amazing guide finds you and your travels well because we are just like you in wanting to take the most advantage of our free time on our holiday and enjoying it to the fullest!
We are going to dive deep into the must do, have to see places of Málaga and the special secret places that only a local would know. So with open arms and all the suggestions ones heart desires, here is our rendition of the most extensive free guide Málaga has ever seen offered…
But first to make things easier, not only on your brain, but also your agenda and how much you can accomplish in one day. We have broken down Málaga into four different sections that can each be done in one fowl swoop. Starting with…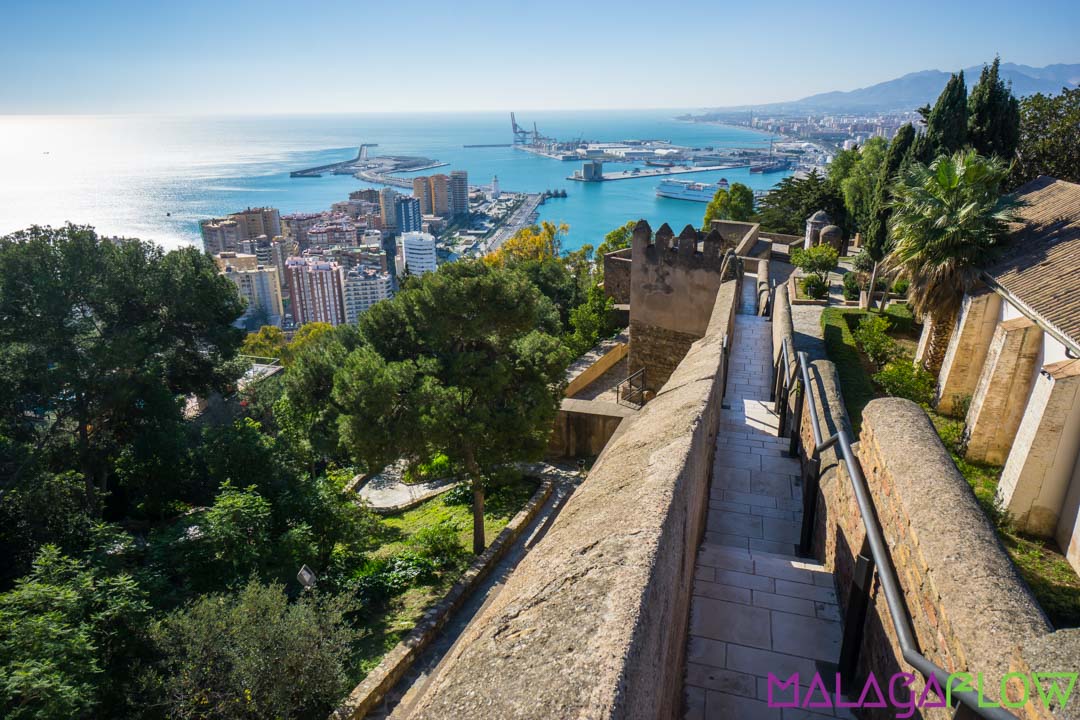 Time to get your bearings and figure out the lay of the land! Absolutely the first thing you have to do while in Málaga. The Alcazaba is a fortification build in the 11th century by the Hammudid dynasty. Claimed as the best preserved Alcazaba (citadel) in Spain. Get there early and bring coins for the entrance fee as tickets are sold from a vending machine contraption.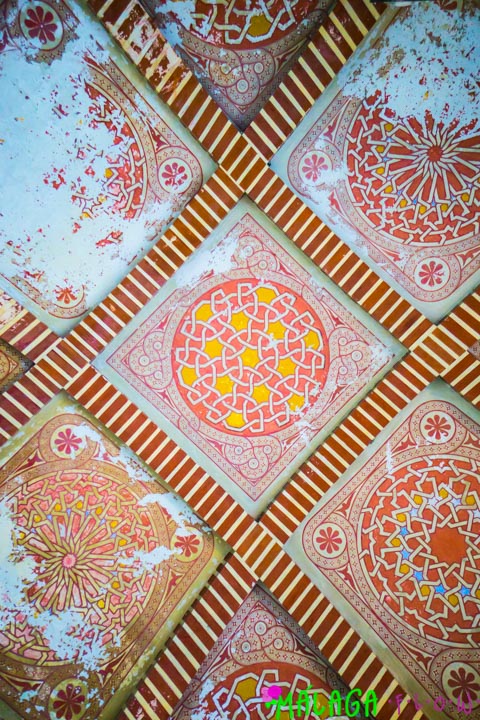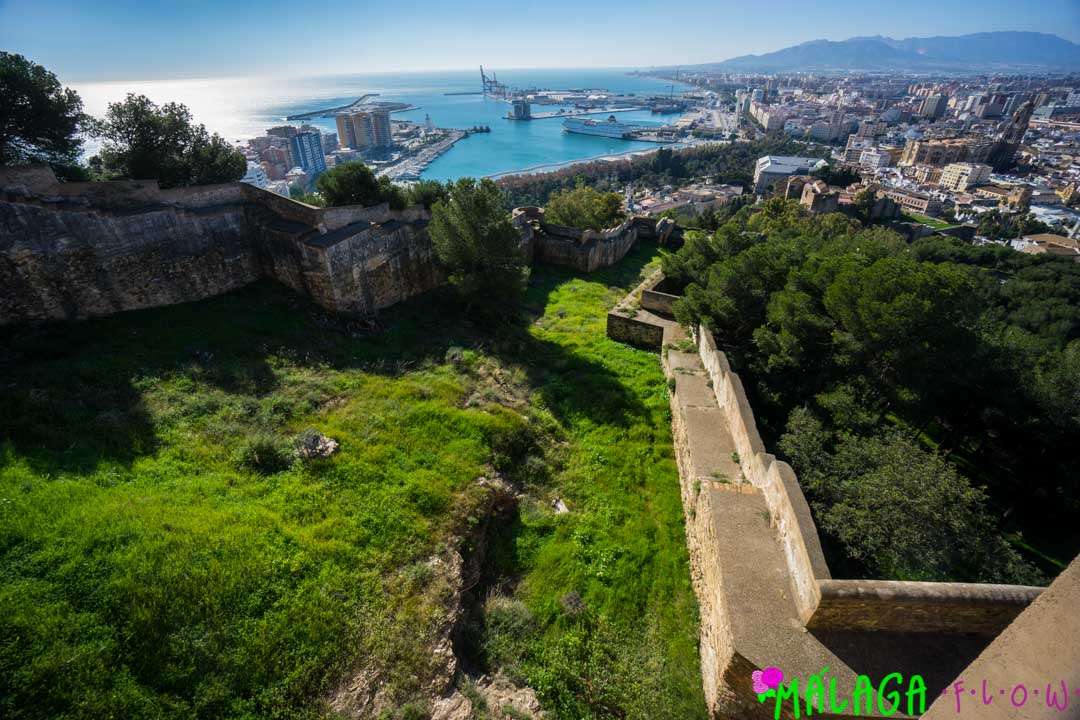 After exiting Alcazaba, a short but steep hike to the top of the mountain leads you to the entrance of Gibralfaro. Built in the 8th century, the attaching castle sits overlooking the city.  Absolutely one of our favorite views and an amazing way to start your day off right. Speaking of views, check out our
best sunset views of Malaga article

.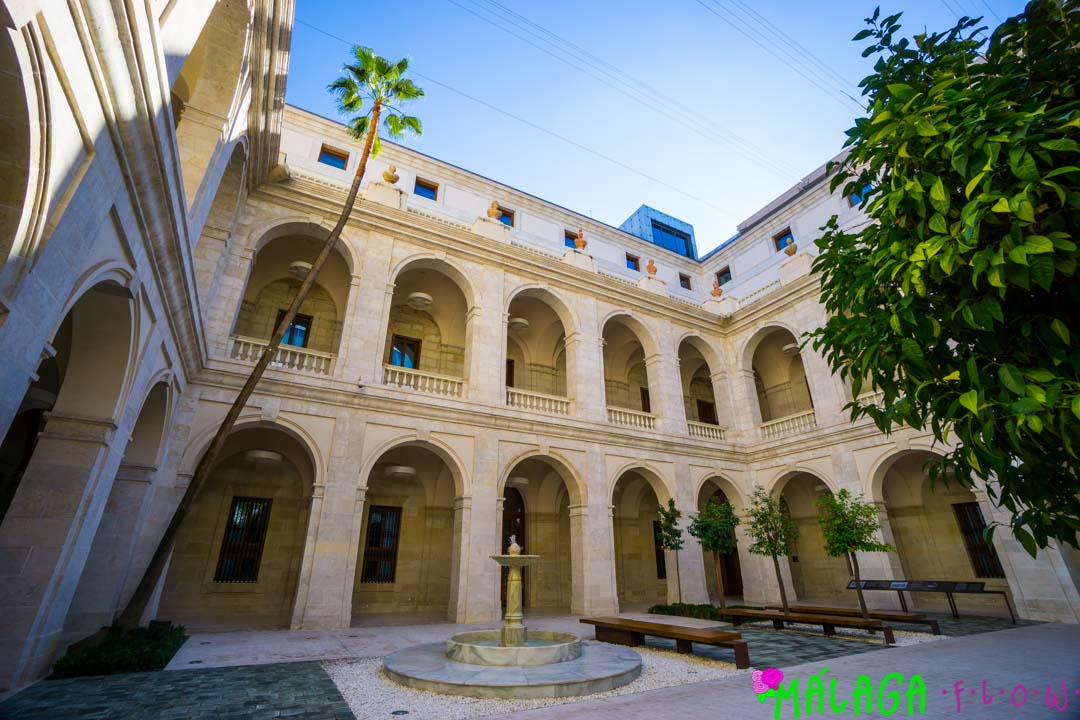 Next on our list of awesomeness, we bring you to Málaga's newest museum that is bringing much controversy and competition. Free for all EU citizens and only a few euros if from a Non-EU nation, they are giving
Picasso Museum
 and
Carmen Thyssen Museum
a run for their money.
Museo de Málaga
 is one part Archaeology and one part Arts, divided among many different floors and exhibits.
Barrio Picasso
Welcome to Picasso's Neighborhood!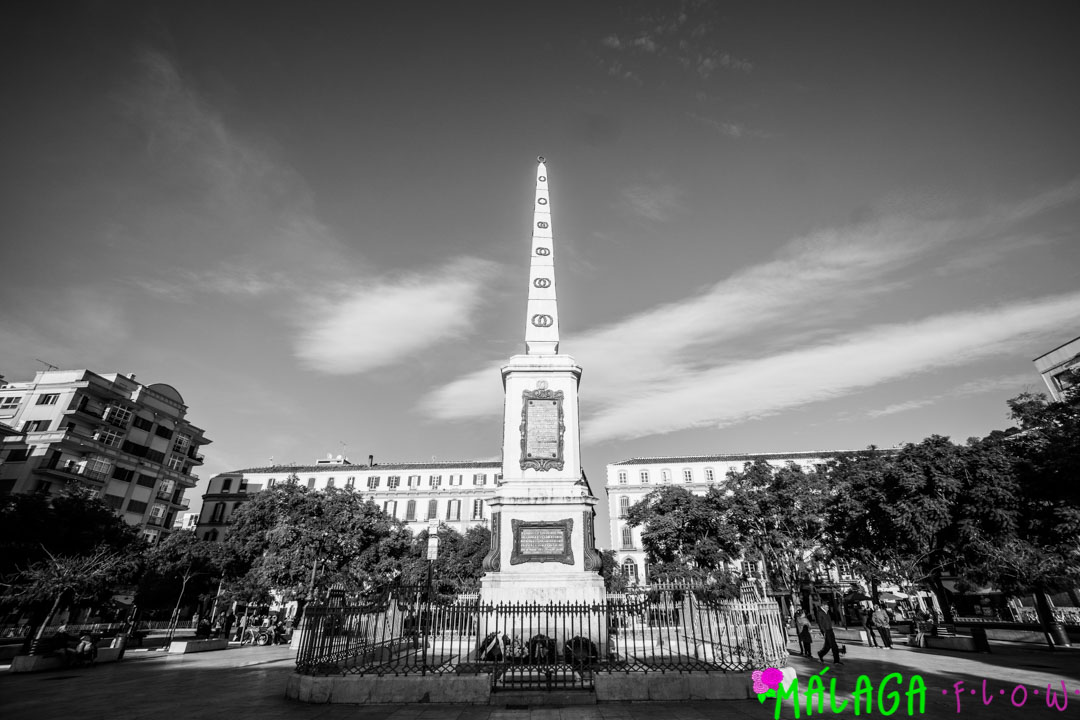 The world today doesn't make sense, so why should I paint pictures that do?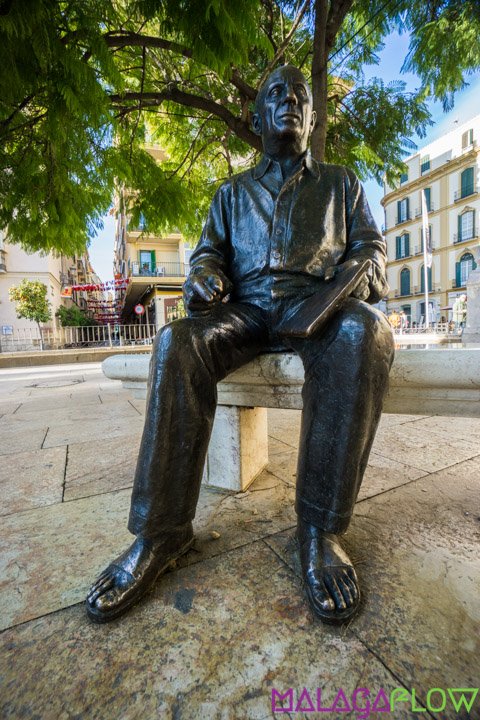 Onto our second section of this guide: Did you know that the world famous artist Pablo Picasso was born and raised in Málaga? A son of a painter, professor and curator at the
Museum of Málaga.
 Pablo quickly surpassed his father at painting at the age of 13 and quickly became one of the most celebrated and sought after artists of all time, whose art and influence is still cherished around the world. His childhood home,
now a museum
, is right in Plaza de la Merced. You can see his influence throughout the city, including the following must see attractions in his barrio (neighborhood).
Barrio de Picasso To Do List:
FREE:
Teatro Romano

Check out the Teatro Romano (Roman Theater) along Calle Alcazabilla. Amazingly it was not discovered until 1951 by accident. Open hours are from Tuesday to Saturday 10 to 18 and Sunday 10 to 16.

Cathedral of Málaga

Visit and enjoy the Roman Catholic Cathedral of Málaga! You cannot miss this one as it can be seen from all over town and is almost a homing beacon. Grab a coffee or refreshing drink below the "Catedral" at Plaza del Obispo and take part in some good ol' people watching with a beautiful backdrop.

Plaza de la Merced

Next, make your way down to Plaza de la Merced and visit the man, the myth, the legend himself: Pablo Picasso. He is stationed 24/7… 365 to help you with a photo for social media. Just don't forget the hashtag #malagaflow 😉

Also check out our free top ten pieces of artwork in the street to see for free here. 
NOT FREE, BUT WORTH IT:
Picasso Museum
El Pimpi

Shout out to all the wine drinkers of the world!!! After the Picasso Museum, you have to stop by a very famous restaurant /bodega (winery) named El Pimpi and order a bottle or glass of the Moscatel Iberia sweet wine. Its right around the corner from the Museum.

Insider Tip! El Pimpi has a newly added bar to the right of the entrance: La Sole. They often have live music and the prices are the same as in El Pimpi. Its normally less crowded from our personal experience. Its also has Air Conditioning on those hot summer days.

Teatro Cervantes

If you are in need of an evening activity, we suggest seeing a show at the Teatro Cervantes. We post many of their events and so much more, so check it out!

Mercado de Merced

Málaga's newest addition is the newly renovated Mercado de Merced (Market of Merced) which offers a gastronomy style of Spanish food in an open relaxed market setting. Fish market and Meat market in the morning, but a huge selection of beer, wine and food in the evening. It's a great spot to grab a bite and maybe a glass of pajarete, a very tasty sweet wine from Málaga.
Do you enjoy shopping, ice-cream and chocolate?
If you said YES to any of the above, this section is for you… If not, you should still walk by as it is a must see.
From Teatro Cervantes, start walking in the direction southwest down Calle Cárcer. Soon this street will turn into Calle Calderería, while enjoying the sights and sounds take a right onto Calle Granada, which will lead you closer to our third section of this guide.
As you pass by all the beer bars and delicious restaurants, be prepared to be invited by waiters into their restaurant or bar, it's a very normal thing here in Málaga. So don't feel bad if you say no!
I-scream, you-scream, we all-scream, for Ice-cream!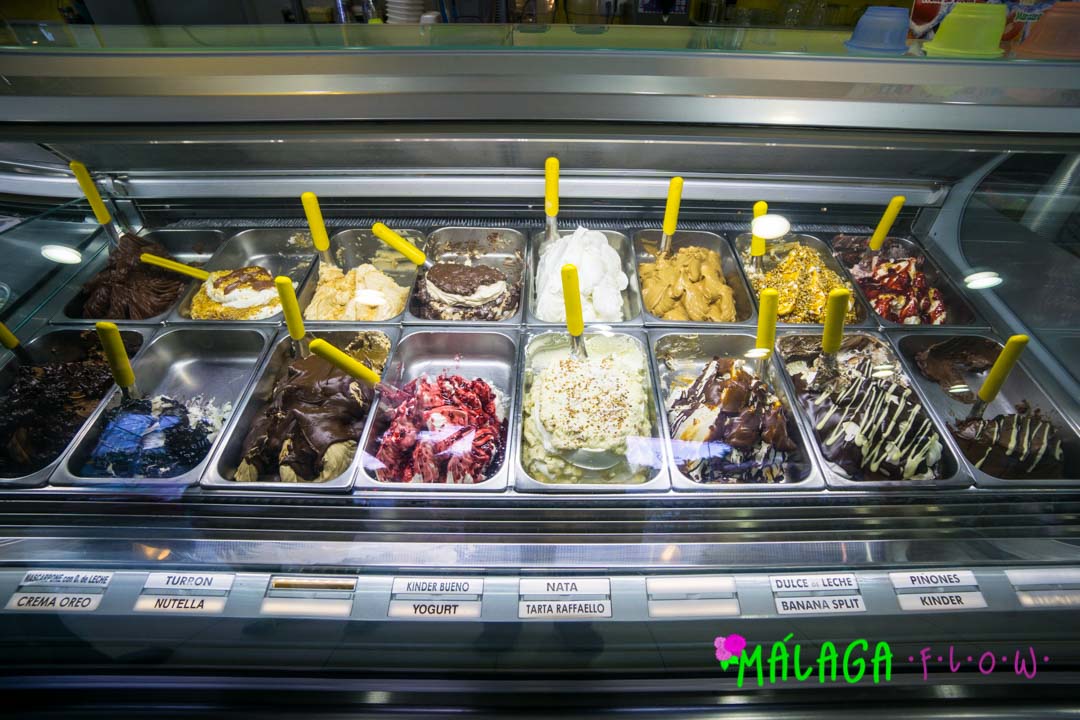 So Spain might not be known for it's Ice cream like Italy's Gelatto, but they  do give it a run for its money and thankfully Málaga is filled with Ice cream shops through out town.
Type in helado (ice cream in Spanish) or heladería (ice cream shop) into Google and see all the possibilities to satisfy your sweet tooth. If you don't have access to a smartphone, don't worry, you are bound to run into one along the route. However, some of the best "heladerías" are out of the way in small allies, so keep an eye out.
Local's Tip: One of the oldest and most famous heladerías in Málaga is Casa Mira, and you will find it on the main street of Málaga, Calle Larios. We suggest to try the Turrón but note you are always allowed to try before you buy!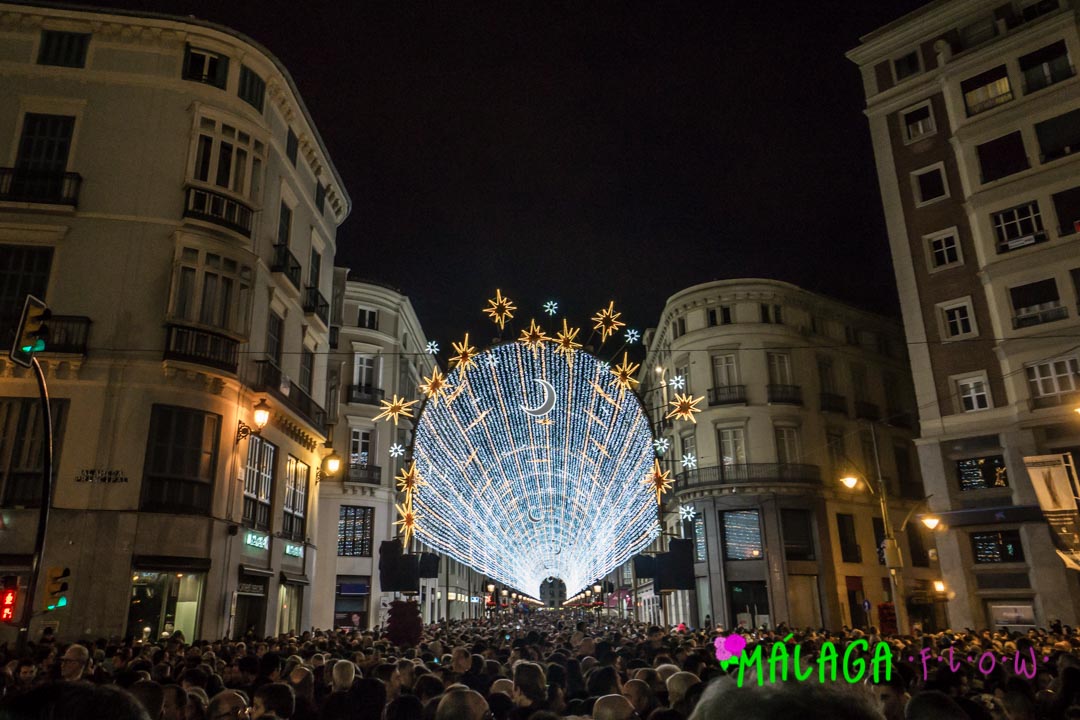 Enroute to our next recommended destination Calle Larios, you have to stop and enjoy Plaza de la Constitución. Many times the epicenter for free art exhibits and festivals hosted by the local government, Plaza de Constitución is one of the most important plazas in all of Málaga. Both Calle Larios and adjacent Calle Nueva are a great shopping area with all the famous big name brands of Spain; with Calle Larios being one of the most prominent streets in all of Spain.
Spain is very well known for its fashion and style, which has been made extremely affordable thanks to globalization. If you visit while Rebajas is happening (in the months of January, February, July and August) and enjoy fashion and clothes; oh boy are you in for a treat. Rebajas meaning Sale, is the time all the shops unload last seasons clothes to prepare for newest seasons clothes. You can expect 30-70% off everything in store!
¡Churros con chocolate!
Deep Fried Doughy Goodness with Chocolate!
Let's just keep right in tune with our sweet tooth, especially if you are in need of another sugar or caffeine boost, we suggest Casa Aranda, known for their churros con chocolate and café con leche (café latte). Churros with hot thick chocolate is a famous tradition for Sunday breakfast or during merienda (tea time or snack if you will) in the afternoons between 17:00-19:00 (article on merienda coming soon).
Local's Tip: There are a lot of Churrerías in Málaga but you should also try other typical Spanish pastries! La Canasta in Plz. de la Constitución is a great spot to have breakfast or a little bite. They offer both, sweet and savory.
So if sugar and or coffee is not your thing or your shopping spree keeps you a little later than you would have expected. We suggest a very old and authentic Malagueño watering hole that goes by the name: Casa de Guardia. A stand up only bar which offers some of the best authentic sweet wines in the whole city.
Did we mention the wine is served from different huge oak barrels and your tab is kept track by chalk marks on the bar? We suggest to try the sweet wine, as that is what Málaga is proudly known for!
Mercado Central de Atarazanas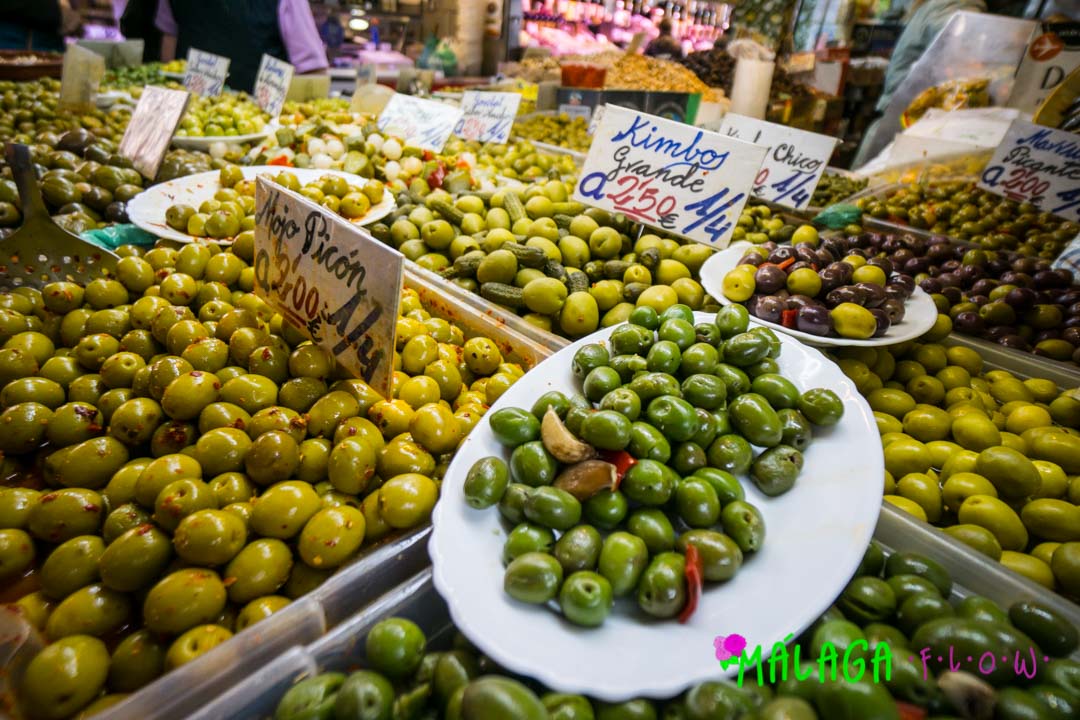 Depending on the time that you get around to all of the fun activities listed above you will need to make time for the central street market of "Mercado de Atarazanas" that happens every day of the week except Sunday. Open from 7-14:00.
The Mercado is filled with your typical suspected delights of fresh fruit, local vegetables, mountains of olives (OMG the olives), savory meat and fresh fish. Around the corners of the market, you have juice bars and tapas bars that have seating outside on the street to enjoy a quick drink or snack. The Malaga Flow Team frequents the spot quite often so check our Instagram to see the fun shots throughout our experiences (we always bring our camera with). 
Next on our list is the well known
Carmen Thyssen Museum
located in Palacio de Villalón, a conversion of a XIV century building that is home of 285 art works that belong to Baroness Carmen Thyssen. This is her personal collection apart from her families museum in Madrid. 
If you are an art buff, definitely a must see! 
Set aside a few hours for this one as there are many floor and galleries to see.
Beaches, Beers and Boquerones
We step back from the concrete jungle of downtown and closer to what Málaga is most appreciated for…
By this point we hope you have gotten your fill on the downtown part of things. But knowing how you could continue exploring the shops, the small allies and streets, to eating and drinking yourself to a new larger waste line in all the restaurants and bars. Let's continue right into our fourth and final section of this guide. If you have made it this far with us, kudos to you as we are going to fill you in on our favourite parts of Málaga.
So if you have not already, made your way across the street from Calle Larios to Plaza de la Marina. From there do us a favor and take a stroll through el Parque de Málaga (yes, that huge avenue with big palm trees). An oasis of plants and trees collected from around the world in a concentrated nature preserve. In el parque you can find more than 150 species that live in a very special habitat thanks to the ocean, the humidity and the warm temperatures.
Apart from all these different plant species, you will find beautiful statues and fountains depicting famous characters or traits typical from the folklore of the city.
Local's tip: From here to the port, and then down to the beach (Malagueta), is the perfect area for an easy and pretty bike ride.
Port of Malaga: Muelle Uno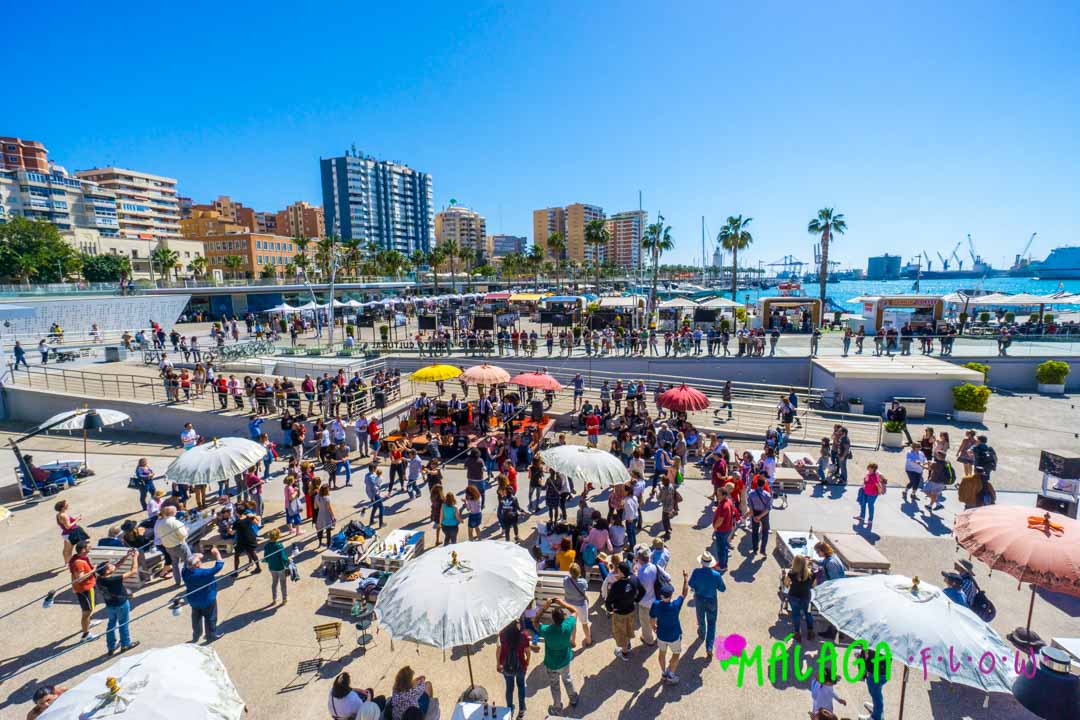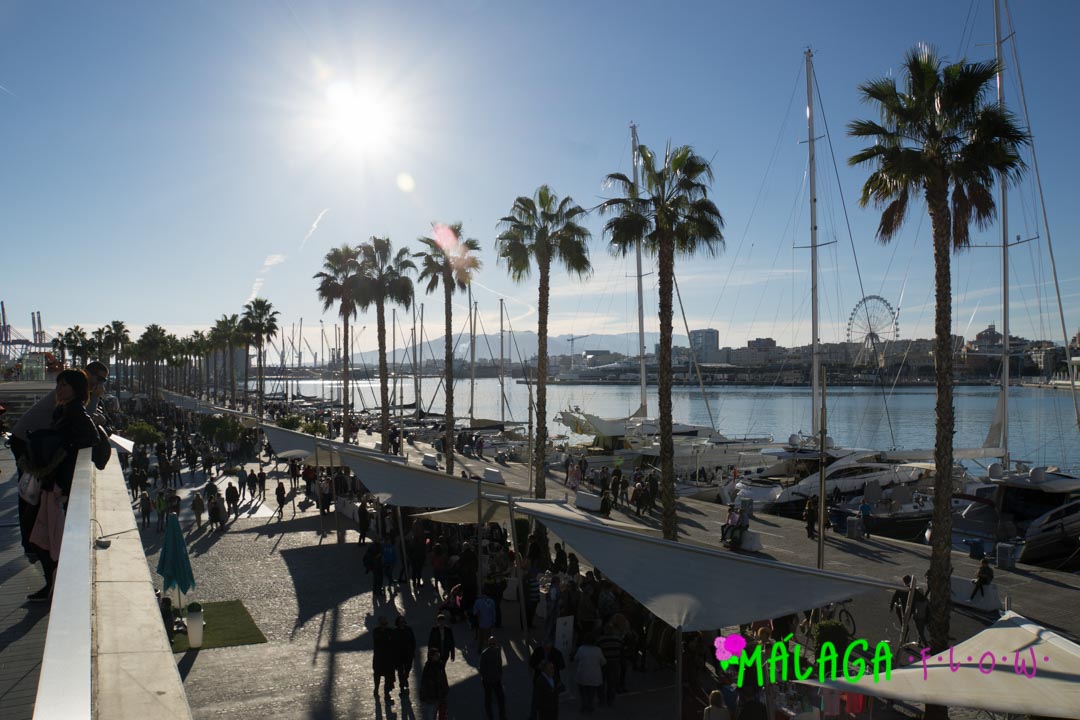 Málagas coolest new addition in the last few years was the update to the port. Name Muelle Uno; known for its delicious food, unique shops and cool atmosphere. As you walk down to the end of Muelle Uno, you will see the Lighthouse.
In Muelle Uno you can find the famous contemporary art museum Pompidou, as well as El Artsenal, an open art gallery close to Pompidou where you can check out their art and enjoy free concerts on the weekends.
Also in Muelle Uno you can find a Street Market every Saturday that is filled with local art, jewelry, clothes and cuisine. And don't forget to take a look at all of the beautiful sailboats and occasional mega yachts that stop by from time to time.
Did you know: The lighthouse "La Farola" in Muelle Uno is the only feminine named lighthouse in all of Spain. Normally the word is masculine (el faro).

What comes first? Beers, Beach or Fish?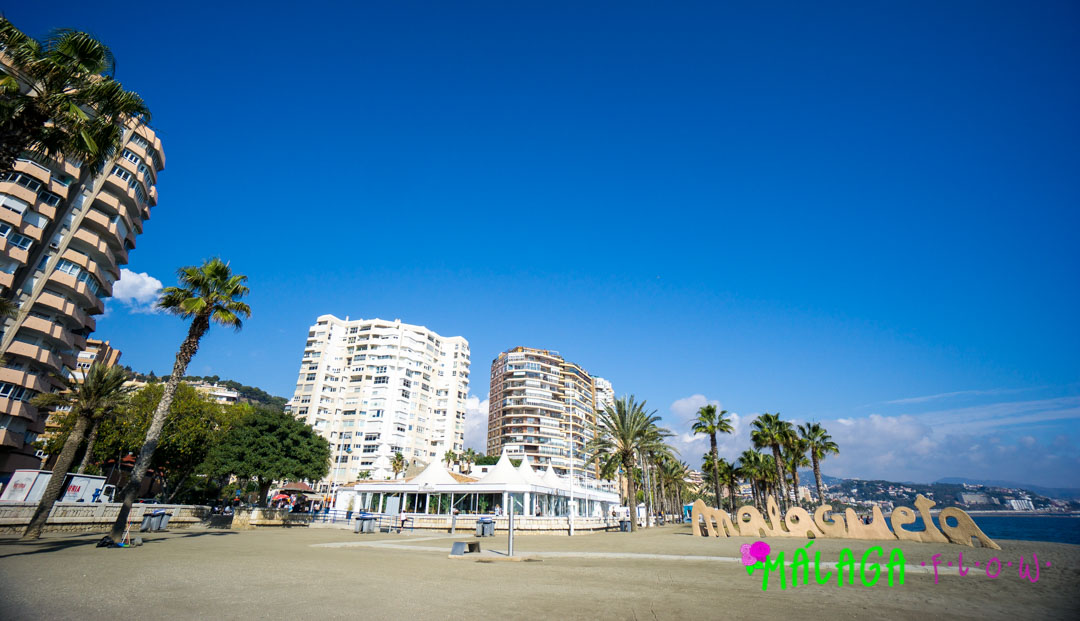 Well we will leave that one up to you, but if it was our day off and up to us. This is how it would go…
Acquire the following:
 Umbrella.

If you don't have an umbrella, well, go buy one at a "Chino" which are the many stores littered throughout town that are your go-to convenience store. If you will, your 7-11 of Spain. Normally having the name "Alimentacion" or "Bazar" mixed into the name, so keep your eye out. If that sounds like to much work please pay for a cabana on the beach before you turn into a red Gamba (shrimp). The sun is incredibly strong here (see item #4).

Beach Towel
Swim trunks/Bikini.
Sunblock 50+ UVA
Refreshments

Also easily acquired at any Kiosko (kiosk along the beaches) or a your local friendly Chino mentioned above.
Now that we got that out of the way… There are a few options of beaches in Málaga, most tourist go to the very popular Malagueta, but in peak season can get quite crowded and the restaurants are on the stepper price range. (make you sure get a super cheesy picture with you and the gang draped on top of the huge Malagueta sign (pictured above); don't forget #malagaflow 😉) Across the port is the long beach of Huelin which can also get crowded and the restaurants speak the same prices.
However, depending on your situation, we would recommend to go and rent a bike! Insert local bike sponsor here ___________ 😂
To easily escape the crowds of the local Malagueta or Huelin beach. Many locals will escape to El Palo, meaning "The Stick". There is a bike lane the whole entire way there along the water front and is very mellow, no hills required!
Our second little secret is the unbelievable food at an extremely affordable price. This is where everyone goes to get fish in Málaga, period.
Pescaito at a Chiringuito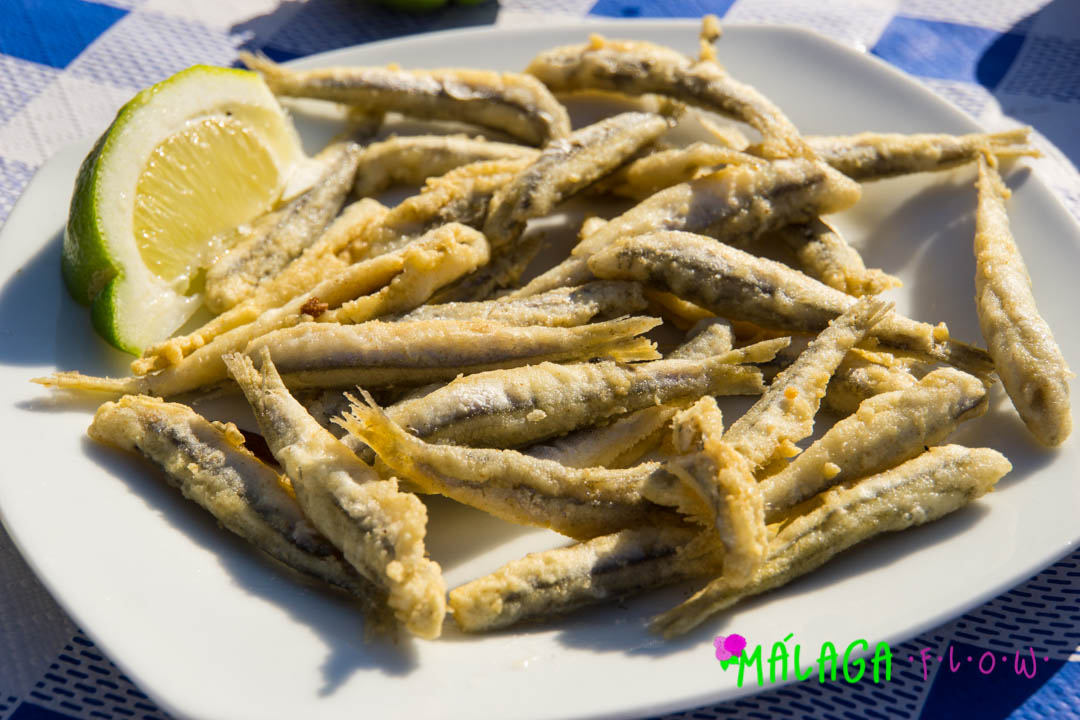 A Chiringuito is a fish restaurant where your food is cooked over an open fire and that open fire is normally inside of an old boat! Our recommendations are as follow:
Boquerones (picture above; basically candy of the sea. Great with a little aioli)
Espetos (sardines cooked on a stick with a little bit of salt. Great to enjoy with a cold caña (small beer)
Calamari Espetado (full sized calamari cooked on a stick; priced based upon the weight, the waiter will normally allow you to choose your calamari)
If this is your first time, we recommend to try all of the above.
After endolging in an amazing lunch on the beach, enjoy the warm sun, cool sea and maybe a beer or two. We hope the ultimate free locals guide to Málaga helps you along your journey to enjoy Málaga and the Costa del Sol and all it has to offer.
If we forgot anything or you just absolutely loved the guide, leave a reply or scroll down a little bit further and send us an email through our contact page. We always love hearing from you guys and your adventures. If it was not for you, we wouldnt be able to make this happen.
But for now, we wish you our best and happy journeys.
❤️,
The MF Team