Its hot, its humid, long days, longer nights, no school, not as much work: its summer! Be your favorite time of year or not, Málaga does not disappoint when the heat starts cranking up. The summer festivities are in full swing by July, but the most famous festivity is the August Fair or "Feria" in Spanish. A week long party that brings people from all over to enjoy the amazing sites and activities that Feria de Málaga has to offer.
Typically, Feria is held on the third week of August, but this year it is happening a little earlier: August 11-19th 2018. So mark your calendars and stock up on as much Cartojal as you can get your hands on because its going to be a long one. (Cartojal = typical sweet wine only consumed during Feria; make sure it is cold, you will thank us later)
Starting off the fair is the
"Pregón de la Feria" on Friday the 11th
which
is where a celebrity or an important person of Málaga (such as Antonio Banderas) will initiate the week-long celebration with a speech of sorts on Málagas most famous beach: La Málagueta.
This year we are very lucky to have the famous singer Chambao commemorate the festivities and also play a concert for free shortly after. But don't forget that at the stroke of midnight, Ayutamiento de Málaga sends a good chunk of its budget into the air with a spectacular fireworks display over the Port of Málaga. This year's Feria is going to be a good one!
The following day and practically the rest of the week people take to the streets to enjoy the day activities of Feria. During the day people flock to "El Centro" or the center of downtown, where you will find people drinking, dancing and being merry.
Live music and small flamenco shows will pop up all over town, but a sure place to see some of the amazing street performances are on Calle Larios. One of the biggest and most recognized streets in all of Málaga. You will find women dressed in typical flamenco dresses dancing "Las Sevillanas", a traditional dance only found in Andalucía.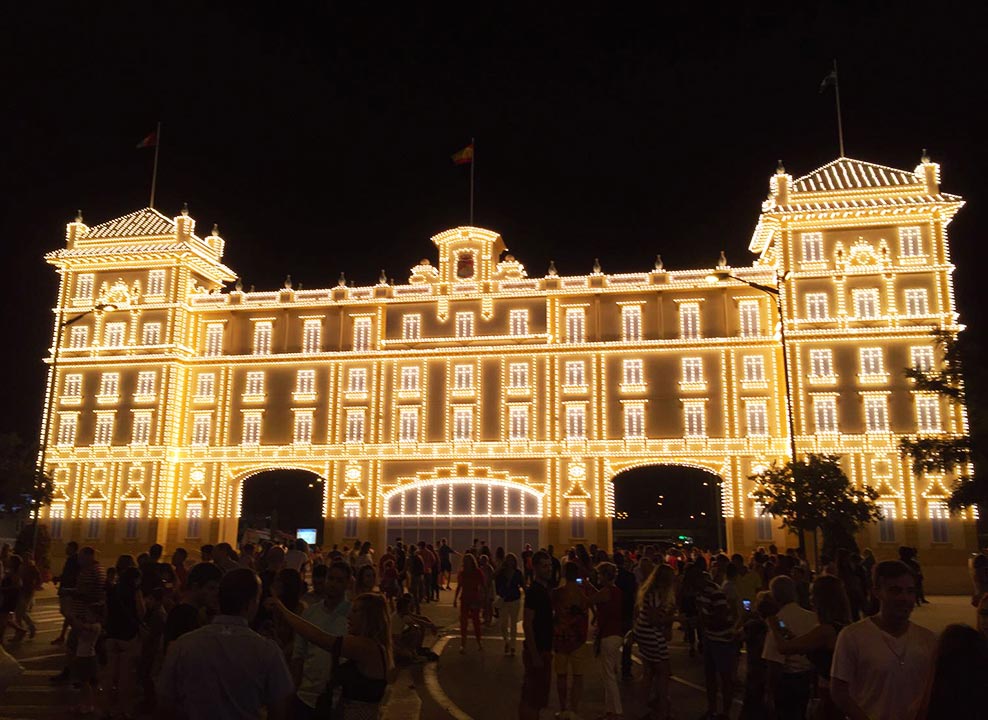 Feria de Día starts to wind down around 19:00 and where people will start flocking via bus or taxi that run 24/7 to Feria de Noche or also known as "El Real"! This is where the masses will take to the crazy amusement park rides, ferris wheel, typical fair games that I suck at (the shooting games get me every time!), and delicious food you can only get while at Feria.
Insiders Tip: If hungry, go and order a Papa Asada, which is a baked potatoes, cut open and filled to the brim with so many delicious ingredients. Its a must have Feria food that you can't go wrong with.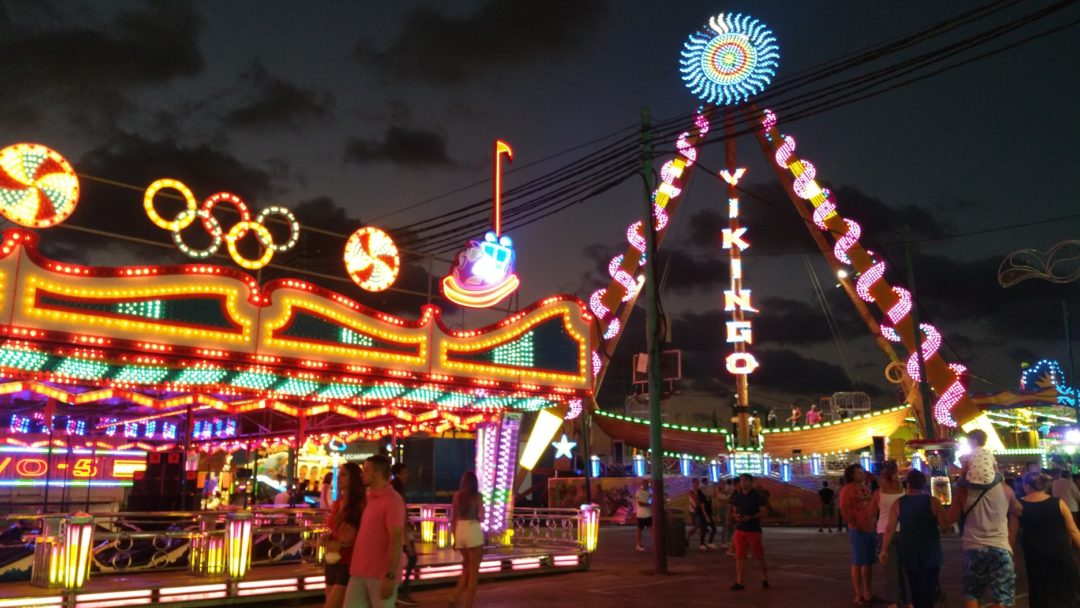 On one side of "El Real" you will have all the amusement park style fair that you have grown up seeing in old Hollywood movies but to the other side of the fairgrounds, you will have the Caseta/Concert side of the fair. Casetas are a makeshift business that pops up in the fairgrounds that are only open for a week during Feria. Your favorite restaurants, nightclubs, and community organizations will install full kitchens, bars, sound systems, dance floors, tables, stages, chairs, you name it into these empty spaces, which turns into a small urban metropolis for the entire week. Depending on the day and time you arrive, you can be invited for free drinks, beers, Paella, and entry into these Casetas.
Also in this section of El Real you will have "El Botellón" which means pre-game in US English where typically younger people will bring their own drinks and proceed to socialize. This happens in the area of the concert stage. So don't feel bad about bringing a bottle of wine or an entire backpack full to make your favorite cocktail. Publically drinking at El Real or downtown is completely legal during Feria de Málaga, both during the day and at night. 
The concert stage of El Real area will have artists and DJ's from around Málaga and Andalucía play for free until dawn. But typically the concerts only happen at the El Real stage during the night and live music will happen during the day in downtown Málaga.
Insider Tip: Brings lots of Ice if you decide to partake in Botellón. Its hot and it will melt fast, but most importantly ice is extremely expensive in the Kioskos in El Real.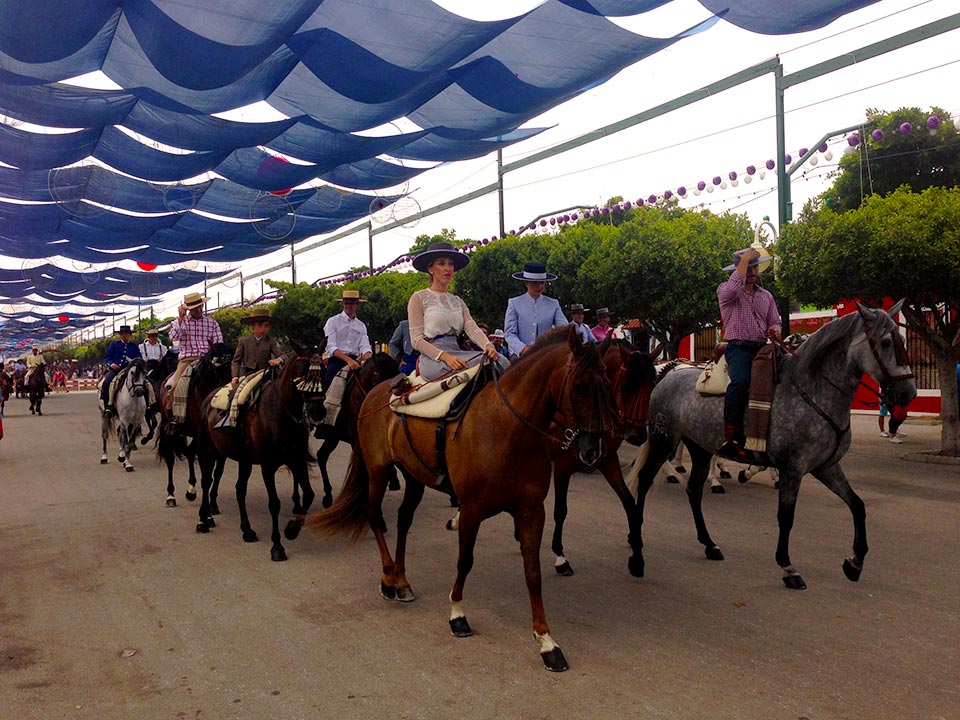 We should also note that "El Real" is also happening during the day if you want to switch up your scenery and get a change of pace from downtown Málaga. Here you will find both men and women dressed in Feria attire and also cruising around via horse and buggy.
During the day you will have a much better chance of being invited to free drinks and food as the crowds aren't as hectic as downtown and caseta owners are wanting to fill up their tables for lunch. During the night do be expected to pay for entry into the nightclubs as they are in high demand, however, in the afternoon they are typically always free if open and you can sometimes be invited to drinks as well.
Insiders Tip: Having trouble getting into a club of your choice? Go and find a nightlcub promoter walking around the area. A lot of times they will even offer you a deal on entry and a drink and let you skip the whole line!  
Throughout the week many special events are going on within Feria de Málaga downtown, Alcazaba, and El Real. Two of our favorites are the historic parade and the "Romeria". The Romeria is happening on the Saturday the 12th of August where a parade starts at City Hall and works its way to the Church of Santa María de la Victoria where the city flag is delivery. Below is the attached schedule for this year's Feria!
  We hope to see you there and if you really enjoyed this article, we ask that you comment, rate and share it with your friends. It helps keep the ship afloat at Malaga Flow!
Until next time, Saludos,
The MF Team.