Finally, it's summertime!
The sun has cranked up the heat and it's time to work on your tan. You are ready to enjoy the fresh breeze of the sea and the warm water of the Mediterranean.
But the true question is where should I go and enjoy this beautiful weather? Which are the best beaches in Malaga? 
Because let's be honest now, you know you don't want to be stuck on a crowded beach with a bunch of drunk assholes. From our research on similar articles online many of them point to the same beaches and from a locals perspective, it screams tourist trap; don't go there!
You are looking for an enjoyable beach where you can escape the touristic craziness of downtown Málaga, or should I say La Malageta and truly soak up the Mediterranean sun on your own timeline. (But please go take a picture in front of the sign at la Malageta, it's one of those things you need to do and see as a first timer in Malaga) 
A few prerequisites to help rank our top five beaches in Malaga include the following:
Drive time from downtown Malaga
Amenities (food, bathroom, trash service etc.)
We find it important to consider these characteristics in picking the best beaches in Malaga because without them not everyone will be happy in our decision and how we came up with the top five beaches in Malaga.
Whether you prefer minimal people, beautiful water quality for snorkeling and being off the beaten path. Or you might want a fish restaurant and a cabana where a waiter in a bikini serves you food and drinks all day while you sink lower and lower into your lounge chair. 
Malaga Public Service Announcement
In the summer months the UV index in Spain is always extremely high. Out of a maximum UV rating of 11. The average is a 9-10 on most days in Malaga. So having 50+ sunblock and an umbrella is a must or else you will look like a gamba shrimp in about an hour. 
So with that being said let us start with number five on our best beaches in Malaga review!
I would think this might be the longest beach in the whole province of Málaga.
Playa de Torrox is a nice smooth sandy beach that has all the amenities we find important but not much of the crowds in the summertime. Its a safe distance from the crowds of Málaga and Nerja but easily accessible with only a short 45-minute drive on the nice A7 autovia.
Here you will find great food along the boardwalk, with many areas to rent cabanas, umbrellas and lounge chairs for the day as well as easy parking throughout the pueblo. Trash, lifeguards and public bathrooms are also abundant.
We suggest you read some reviews online and order a Paella ahead of time at one of the many delicious fish restaurants.
El Palo is sick! Meaning the stick in Spanish is not too far from downtown. Drive time is about 15 minutes.
Walkable and bikeable from downtown, more parking than as well and the best fish restaurants in the whole province of Malaga. 
El Palo also offers great beaches that are nuzzled into man-made rock coves to protect from wind and waves. (pictured above)
El Palo beaches offer a great Paseo marítimo (boardwalk), kids playgrounds, cabanas, umbrellas and lounge chairs for rent, free public restrooms, and lifeguards. The sand quality is nice and soft as it is artificially brought in. Depending on the ocean current and vicinity to Malaga, the water quality can  become a little stagnant due to the man-made rock coves.
Did we mention the seafood at one of the 15 plus Chiringuito? They are the cheapest and best in all of Malaga.  
Playa Cabopino is about a 45-minute drive from downtown Malaga that is famous for it sand dunes and Torre Ladrones.
Beautiful natural sandy beaches, clear water with ample parking, trash and restaurants nearby the Port of Cabopino. This beach, however, does not have lifeguards or public bathrooms but makes up with the Dunas de Artola as your backdrop. On a good day, you can even surf which is rare for the Mediterranean!
Note that there is a nudist part to the beach but that does not stop anyone from enjoying this amazing protected area.
2. Torremolinos: Los Alamos & La Carihuela
The beaches of Torremolinos are a very long section of beach just West of downtown. It is the first pueblo you hit that runs along the coastline.
What is hidden here that most don't know is there is a certain section of beach that is filled with dance clubs that are right on the water.
Partying in the summer has never been more fun because when it is hot you go and cool off in the water. Drink prices are reasonable and the food is also really good. If you are looking for even more party, check out our Best International Partying and Drinking Bars/Clubs in Málaga Article.
There is even more parking than El Palo! Lifeguards, free bathrooms, trash, cabanas and lounge chairs with umbrellas for rent.
If this does not sound like your cup of tea, heading to La Carihuela is your best bet. (see the difference below on the interactive map) This section of beach is a better family-friendly option. Has the same great features, just way less blaring loud reggaeton music.
Drive time is about 22 minutes from downtown Malaga.
1. Ancatilados de Maro-Cerro Gordo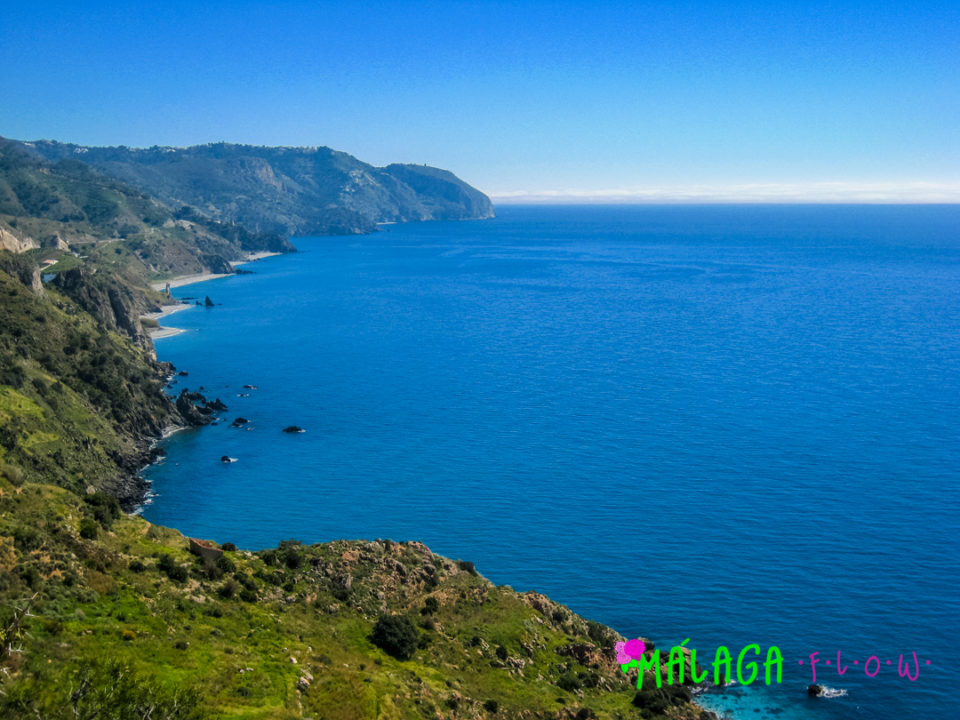 The team at Malaga Flow really enjoys this section of coastline because it is a protected natural park. No apartment buildings, hotels, fake beaches, parking structures or touristy stuff is anywhere in site. Just you and nature.
**Be warned though that this is a minimalist style area.** There are no lifeguards, bathrooms, trash bins or cabanas for rent. You need to be prepared to bring everything yourself and pack everything out with you. Remember, leave no trace!
But this is what makes Anticaldos de Maro so special! These beaches not crowded, the water is always crystal clear and this is the best area for snorkeling and Scuba diving in all of Malaga. Sea caves, Dolphins, birds of prey and a lot of bocarones. 
Most of these beaches require you to park above and hike down to them via hiking trails or dirt roads. Drive time is about an hour from downtown Malaga.
There is one area that you can pay 2 euros and they will shuttle you down and back via a bus. Check out: Cala del Cañuelo on our ap below. There is free parking above.
So make some bocadillos (sandwiches) and pack your cooler to the brim because this is really how summers should be spent in Málaga.
Acantilados de Maro-Cerro Gordo
Cala del Cañuelo
We hope you enjoyed our top five beaches in Malaga article and hope even more you go and get out there and get to discover the best beaches in Malaga during your visit!
Til next time,
❤️,
The Malaga Flow Team